Things to consider before ordering a shed.
1 -  To read our measurements: Gable Wall x Side Wall 
         Example- 8 x 12 medium board and batten.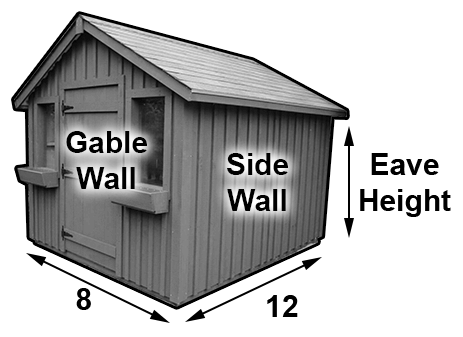 Eave Heights:  Low - 6 feet 5 inches ( 65 inches ), the door must be on gable wall.
                                 Medium - 6 feet ( 72 inches ), the door must be on gable wall.
                                 High - 7 feet ( 84 inches ), the door can go on any wall.
2 - A shed less than 108 square feet must be 2 feet away from the property line, at the minimum, due to zoning by-law.
3 - The customer must provide a level site or leveling fee may apply.
4 - The customer must ensure there is space for our 40-foot truck.
5 - The customer must have the site cleared prior to shed installation.
6 - The customer must ensure there are no animal droppings on the site where the shed will be installed and that the arbor over the gateway is removed.
7 - Access to an electrical outlet is required for shed installation. Please inform us ahead of time if:
your house electrical box is equipped with the old circular fuses
you cannot provide electricity for our crew
8 - In extremely warm weather, please offer our dedicated employees some drinking water.  As much as we enjoy constructing your garden shed, we like to stay hydrated in order to complete our best craftsmanship for you.
9 - All sheds have a one year warranty with parts and labour.
10 - All sheds are property of Grand River Sheds until full payment has been received from the customer during completion of installation.