Things to consider before ordering a shed.
1 -  To understand our measurements,  they are by Gable Wall x Side Wall 
         Example: an 8 x 12 medium board and batten.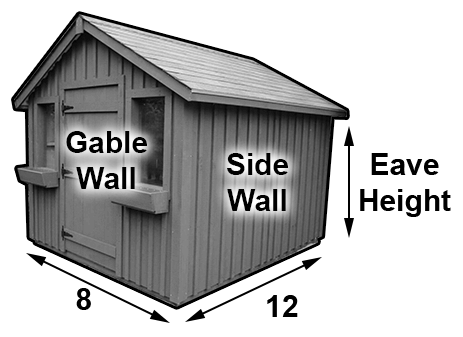 Eave Heights:  Low - 6 feet 5 inches ( 65 inches ), the door must be on gable wall.
                                 Medium - 6 feet ( 72 inches ), the door must be on gable wall.
                                 High - 7 feet ( 84 inches ), the door can go on any wall.
Our finished dimensions on our sheds are 6 inches bigger than the size of shed that you ordered.   Our usable floor size is 7 inches smaller than the size you order.
Example:  an 8 x 12 finished dimension is 8' 6" x 12' 6" and floor dimension is 7' 5" x 11' 5". 
The roof length and width are approximately 12 inches bigger than the shed.
Example: an 8 x 12 sheds roof is 9' x 13'.
These measurements should be considered when your planning a location for your shed. 
2 - A shed less than 108 square feet must be 2 feet away from the property line, at the minimum, due to zoning by-law.
3 - The customer must provide a level site or leveling fee may apply.
4 - The customer must ensure there is space for our 40-foot truck.
5 - The customer must have the site cleared prior to shed installation.
6 - The customer must ensure there are no animal droppings on the site where the shed will be installed and that the arbor over the gateway is removed.
7 - Access to an electrical outlet is required for shed installation. Please inform us ahead of time if:
your house electrical box is equipped with the old circular fuses
you cannot provide electricity for our crew
8 - All sheds have a one year warranty with parts and labour.
9 - All sheds are property of Grand River Sheds until full payment has been received from the customer during completion of installation.